San Francisco, CA – Galanter & Jones, a pioneering company specializing in sustainable heated furniture, is thrilled to announce a new and innovative way for prospective buyers to experience their furniture.
While traditional retailers are struggling to regain pre-pandemic foot traffic in stores, Galanter & Jones has launched a better way  to shop; customer showrooms. By partnering with current customers to open up their outdoor spaces to people who would like to try the furniture firsthand, the company allows people to hear unbiased reviews from people who already own it. By showcasing its heated furniture in private customer backyards, balconies, and patios, Galanter & Jones allows its unique heating solution to speak directly to an audience who are looking for options beyond unsightly and ineffective patio heaters.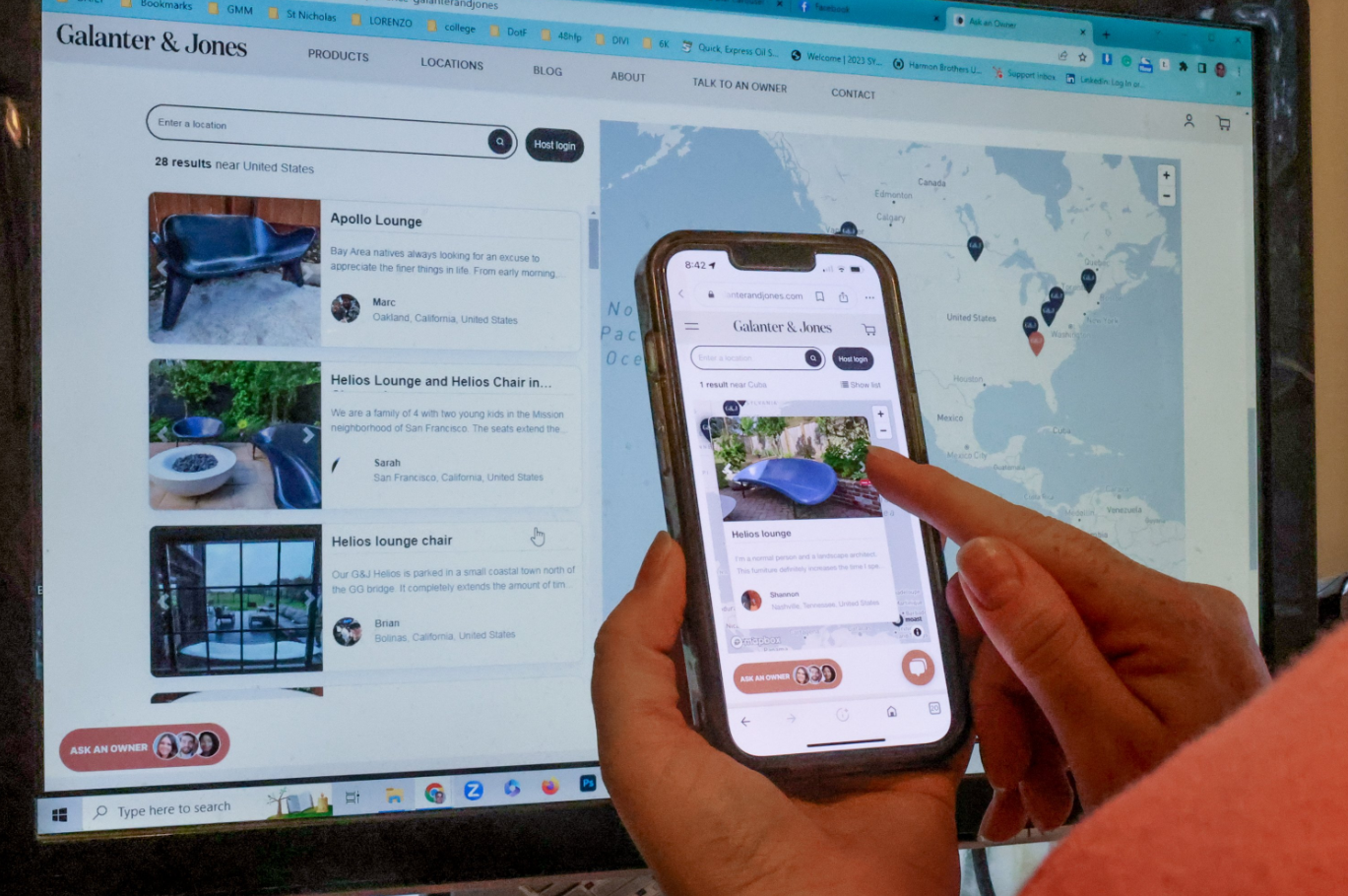 In fact, their heated furniture was originally invented to solve this problem. Conventional propane patio heaters emit emissions as toxic as motor vehicles, are not sustainably designed, and do a poor job of keeping people comfortable. Aaron Jones knew there was a better way to help people stay warm outdoors; heat the person instead of the air around them. The conductive heat generated by Galanter & Jones furniture warms your body at its core. The sensation is similar to sitting in a heated car seat or a hot tub.
"I love being outside with my friends and family but I hate the cold. Even around the fire pit I am still chilly. Being concerned about the environment I chose these eco friendly chairs and am so excited to have them by our fire pit!"
-Andi Irwin, Galanter & Jones Customer Host in Pittsburgh, Pennsylvania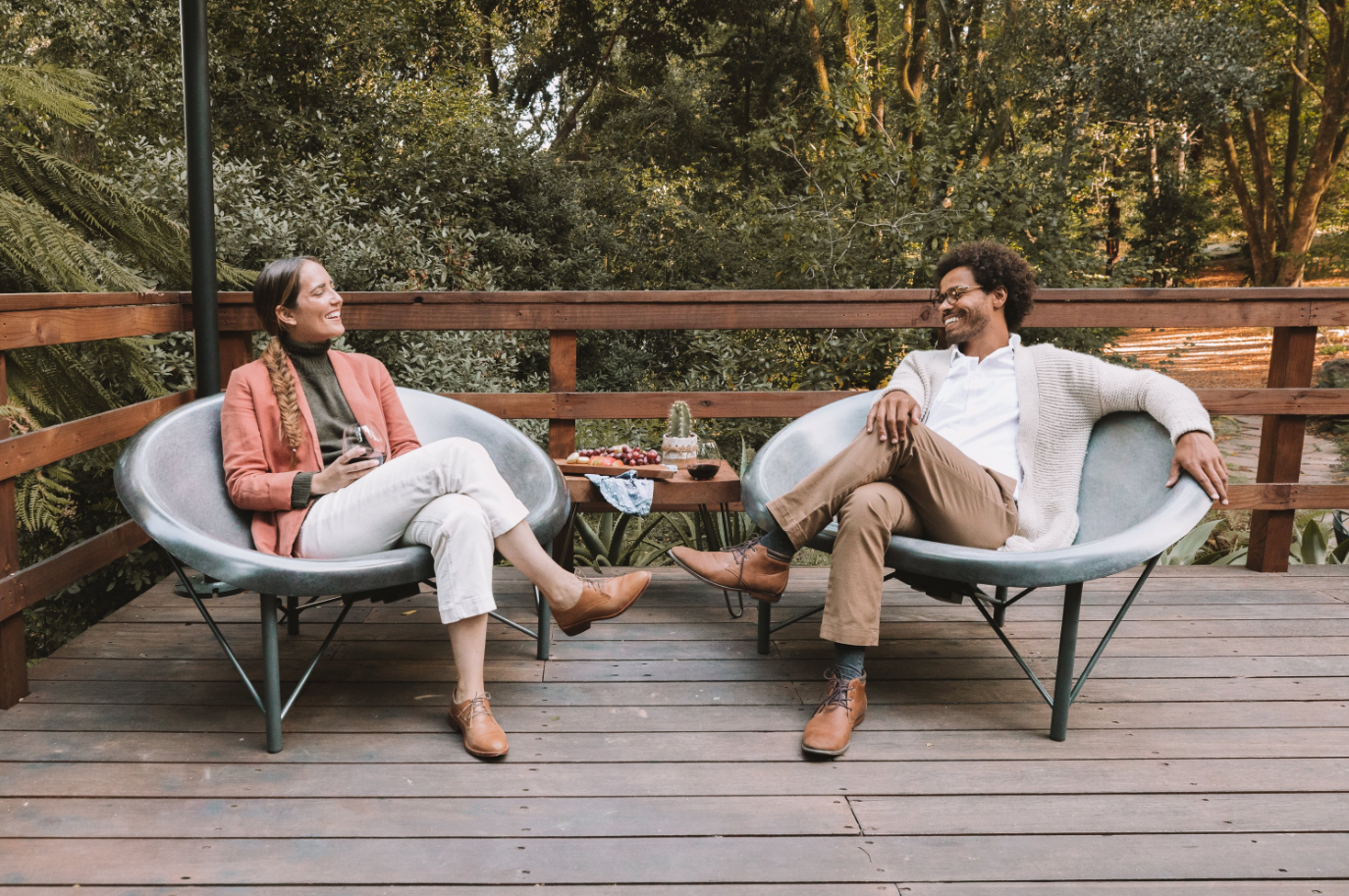 This innovative furniture has been featured in Wirecutter by the New York Times, Architectural Digest, and Goop among others. And now, you can visit a neighbor and experience it in the relaxing, low pressure atmosphere of a home setting. Crafted with the greatest attention to detail, comfort, and sustainability, Galanter & Jones furniture is changing the way people enjoy their outdoor living spaces together.
To experience heated furniture anyone can use the simple web interface and book an appointment to visit a customer showrooms at https://galanterandjones.com/pages/experience-galanterandjones
About Galanter & Jones:
Galanter & Jones is a design and fabrication studio run by brother/sister duo Aaron and Miranda Jones. Founded in 2012, the company debuted with a line of heated outdoor seating, the first of its kind. 
Galanter & Jones has been featured in a variety of publications including The Wall Street Journal, The New York Times, Elle Decor, House Beautiful, and Dwell. In 2015, They won Best Outdoor at Dwell on Design, and in 2018 received the Furniture Innovation award at San Francisco Design Week. 
Clients include homeowners, interior designers, landscape architects, hospitality and restaurant owners, and celebrities. Galanter & Jones pieces can be found in a variety of residential, hospitality, and commercial spaces.
For more information and to explore the exceptional range of heated furniture, please visit the official website at https://galanterandjones.com
Media Contact

Company Name
Galanter & Jones
Contact Name
Miranda Jones
Phone
(415) 937-0336
Address
175 Barneveld Ave
City
San Francisco
State
California
Postal Code
94124
Country
United States
Website
https://galanterandjones.com/