GARDEN GROVE, CA – Everyone wants to make money while they sleep. Warren Buffet once said, "Unless you find a way to make money while you sleep, you will work until you die!" Seems a bit morbid, yet the fear of missing out on passive residual, nonlinear income has birthed a brand new generation of investors and entrepreneur financiers. This is where the beauty of cryptocurrency comes in. ​​Cryptocurrency is an encrypted digital asset that one acquires by exchanging their depreciating sovereign currency on the blockchain. This is an open ledger that functions both privately and securely, giving the owner complete autonomy. In short, users are responsible and accountable for being one's own bank. Unlike paper fiat money, cryptocurrency does not exist in physical form and is typically not issued by a central authority. Subsequently, owners of cryptocurrency enjoy the benefits of a decentralized digital money system.
Gold Standard Partners brings a unique offer to the industry with their introduction of the world's first decentralized blockchain banking technology. Gold Standard Partners allow users to BYOB, "Be their own bank." They possess their own blockchain technology, forming a 'Metaverse MacroEcosystem' unparalleled to any other company on the planet. 
Dr. Hall is part of a group of entrepreneurial educators dedicated to bringing awareness to the new money economy, known as "Wealth Builders Worldwide."​​
In 2010, Dr. Hall received an allogeneic bone marrow stem cell transplant after a near-death, life-threatening dual diagnosis of Stage IV Diffuse B-Cell Non-Hodgkin's Lymphoma and Large Granulocytic Leukemia. She was given a prognosis of 30 days. When life takes an abrupt pause due to illness or other unforeseen events, multiple streams of passive income become more crucial than ever.
Ten years ago, with a new mindset and a strong desire to network, Dr. Hall became interested in Robert Kiyosaki's CashFlow Quadrant. Determined to never rely on active income alone, Dr. Hall joined a global entrepreneurial family, Wealth Builders Worldwide (www.myWBW.net). In so doing Hall, heralds the vision of being in a 'wealth education ministry.' Today, Dr. Hall functions as an 'entrepreneurial financier', privately securing generational wealth via the economic vehicle called Gold Standard Partners/Gold Standard Bank.
Gold Standard Partners (GSP) offers a G999 utility coin on their blockchain technology. This "metaverse block-chain technology" allows instantaneous transactions, enabling privately secured transactions on GSP's metaverse network system without any third party intermediaries.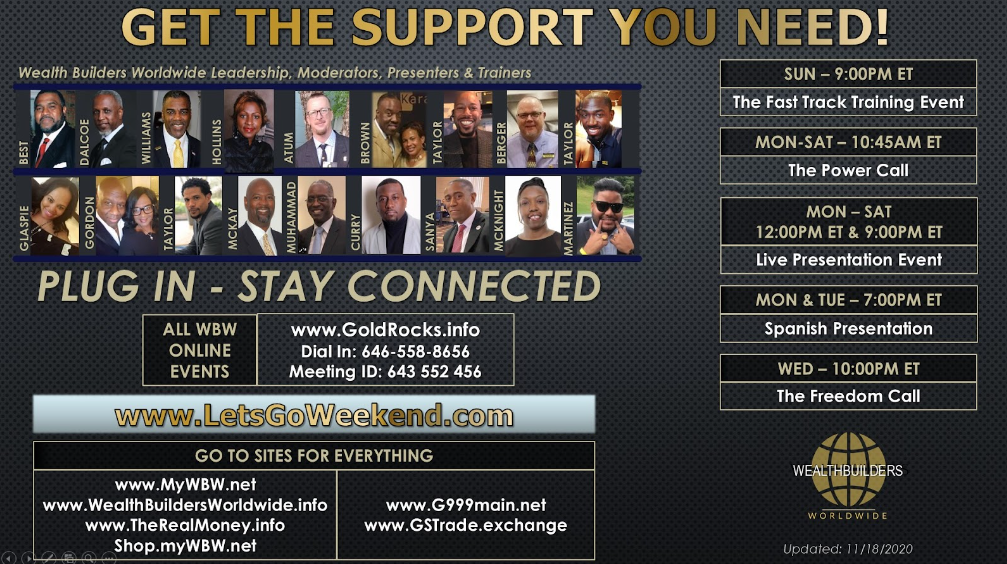 Transactions made on the G999 blockchain are completely secure and fast – 24/7. For Gold Standard Partners, being able to incentivize their customers and members with a way to "pay themselves first" is a top priority. Additionally, both customers and members are rewarded in real-time with privately secured digitized and physical assets that are both willable and transferable. This important distinction enables users to pass on their appreciating digital assets as generational legacy wealth. According to Dr. Hall, "Our key driving force lies in education. Education of people, offering entrepreneurial professional/personal development, all within a newly created 'hybridized, 21st-century business model' that is truly cutting edge." For blockchain enthusiasts, cryptocurrency enthusiasts, hemp enthusiasts, and sustainability enthusiasts that want to learn more about the G999 blockchain and Gold Standard Partners visit https://www.g999main.net/
https://linktr.ee/AgriVillages
Media Contact
Company Name
Gold Standard Partners, Gold Standard Bank
Contact Name
Rev. Dr. Denise Elizabeth Hall
Phone
833.822.6050
Address
12913 HARBOR BOULEVARD, BUILDING Q-3, SUITE #113
City
GARDEN GROVE
State
CA
Postal Code
92840
Country
United States
Website
https://www.g999main.net/