Founded by Nivedita and Sudeep Kumar Lahiri, Counsel Academy is an online educational organization offering live educational support to students irrespective of age, socio-economic condition and health. The Academy ensures equal opportunity for everyone to reach their best potential offering skill assessment services, customized academic support, various skills education, camps, interaction clubs, internships and workshops.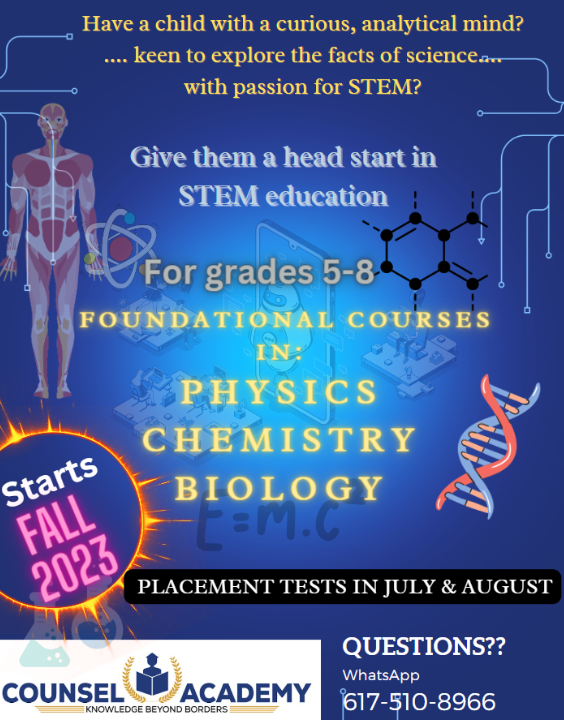 They offer live online STEM courses, languages, finance education, soft skills (communication, life skills, management skills, etc.) In collaboration with other businesses, Counsel Academy offers a large repertoire of resources ranging from health and wellness, stress management, career counseling, job readiness support, parent resources, etc.
5-Star Testimonials Include:
"There are no words to express my gratitude for Counsel Academy! Nivideta took the time to get to know my child and matched him with a perfect resource. But the service doesn't  stop there. She continues to check in, making sure that the tutor and my child are connecting and getting results. Our tutor, Larry has been an amazing fit and identified the areas in the curriculum where my son had deficiencies. He was able to get him up to speed in pre-calc and AP exam ready in AP Chem! We are thrilled with Counsel Academy and can't recommend them enough!" Erica Weiner, Parent of 10th Grade Student 
"I had the pleasure of working as a Creative Curriculum Design Intern at Counsel Academy. They gave me the opportunity to design novel writing and video game design courses, and they offered some valuable feedback as well. I greatly appreciated having the chance to work alongside them!" Rachel Marshall, Former Intern, University of West Florida
"A wonderful experience for the kids. The teachers were all excellent. I definitely recommend the counsel academy." Leela Sivaraman, Summer Camp Parent
Counsel Academy will soon be launching Pre-AP (Foundational) courses for Physics, Chemistry in Biology for students in grades 5-8 to give them a head start to STEM education and qualify for AP courses in high school. Placement tests will commence in July.
Counsel Academy Includes Specific Services Per Age Group:
CounselKids (ages 8-12)
CounselTeens (ages 13-17)
CounselGrads (ages 18-25)
In addition, CounselSupport and CounselComfort are heavily discounted services offered to underprivileged and sick/hospitalized children.
About Counsel Academy
Launching in late 2021, Counsel Academy started services early 2022. Since 2019, and especially during the pandemic, they have been successfully organizing online summer camps, with children from more than 5 US states joining them online.
Currently, they are working with not only students (B2C), but businesses (B2B), local libraries and senior centers; and soon they will be serving public and chartered schools.
Counsel Academy is a subsidiary of Lahiri Group of Companies (LGC), and they have not yet raised any funding and do not have other investors.
Benefits Include:
High Quality Sessions. Utilizing animations and AR, live-Instructors enable an interactive classroom environment for students. Interactive learning, in-class quizzes, typically no or less homework (manageable after school). Innovative content, with Augmented Reality (AR) and animation for enjoyable learning experiences.
Individualized Learning: Using a scientifically reviewed and validated evaluation test to discover each student's strengths, weaknesses and learning style. A personalized curriculum plan will be created to work on both academic and soft skills.
Efficiency and Accessibility: Reasonable cost as compared to the quality. At home provides ease of access. Individualized time-slots will be arranged for special considerations helping sick-children and under-privileged children.
Parent Engagement. Parent feedback/check-ins at regular intervals. Parental resources which include parent coaches, academic coaches, a child psychologist and consultations.
About Nivedita Lahiri
Nivedita is a scientist, with a Ph.D. in Immunology with post-doctoral research experience from Harvard Medical School. With research experience that spans more than 10 years, teaching at the Undergrad level, active involvement in scientific and literary writing, Nivedita views education from a wider perspective.
She is passionate about exposing students to real life experiences, and believes in "complete" education. Counsel Academy is the brainchild of her vision for a future generation of citizens, of all ages, enlightened with complete education.
Counsel Academy envisions "Complete education: Knowledge beyond borders."
counselacademy2021@gmail.com
Media Contact

Company Name
Counsel Academy LLC
Contact Name
Nivedita Lahiri
Phone
(617) 510-8966
Address
153 Newtown Turnpike
City
Weston
State
CT
Postal Code
06883
Country
United States
Website
https://www.counsel-academy.com/