Law Ease AI offers a fully customizable patented software that allows personal injury attorneys to know EXACTLY where each client came from, whether a social media post or a website browse that led to a phone call.
The software doesn't disrupt any current processes of a law office and simply acts as an extension to everything else that it is being used. With a simple to use dashboard that shows client attribution, all of a law firm's marketing dollars become strategic, efficient, and the bottom line savings are substantial. 
A first of its kind, this hybrid-SaaS and AI software has multiple applications.
5-Star Testimonials Include:
"Law Ease AI really delivered. I'm amazed how much better I can be by targeting the marketing spend that is working instead of not having access to anything close to this technology." Maria G. 
"They weren't pushy at all, the technology is better than advertised, and made an already low price even lower. I think we pay more at lunch every month than we pay them?" Michael B. 
"They checked a lot of boxes for me. The same person picks up regardless. Product is why I bought the software and service is why I'll stay a lifelong client." Tom M.
About Law Ease AI
Founder and patent holder Derek Iorg partnered with longtime, childhood friend Cort Twitty to create the #1 ranked company in 2023 of Most Inspiring Businesses to Watch. A product that has been worked on for 3 years, Law Ease AI offers multiple solutions that are long overdue in the legal industry. 
They commit to their clients that they will have a world-class experience interacting with Law Ease AI. 
Business has changed as the result of the pandemic, and technology is growing faster than ever. Law Ease AI is on the forefront of that growth. They are positioned to become a well respected group under the guidance of marketing expert Derek Iorg and award-winning author and serial-entrepreneur Cort Twitty. 
About Cort Twitty
Suffering in Cort's life started early, and he knows what being homeless as a kid feels like. Overcoming obstacles was survival for him. His gifts started then. Now he helps businesses overcome obstacles by creating products that make their life easier. 
Cort is a published author of the award-winning book, 'Godfidence: The Art of Quiet Confidence and Emotional Intelligence' available on Amazon.'
2022's TOP 100 Entrepreneurs & Innovators (https://www.thetop100magazine.com/cort-twitty)
2022's 10 Most Inspiring Business Leaders https://www.cxooutlook.com/bolstering-the-link-between-emotional-intelligence-and-financial-literacy/
Executive Contributor, Brainz Magazine
2023's #1 Most Inspiring Business Leaders to Watch in 2023 (The Chief Navigators)
According to Cort, "We tell attorneys (and other businesses soon enough) exactly how their customers are finding them. We can work with marketing teams to show them the power of using our patent pending software to give the client a beautiful dashboard that we let them customize (not on their own) to their processes. We have spent 3 years in our clients shoes and will continue to listen to them on ways to improve.
Our people are what make us unique. Everybody says that but few are authentic during work and after work. We offer a world-class experience, and you will have access to our personal phone numbers if there is an issue. That's how much we stand behind what we do."
Media Contact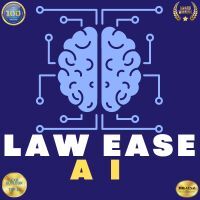 Company Name
Law Ease AI
Contact Name
Cort Twitty
Phone
(801) 921-2222
Address
Salt Lake City Metropolitan Area
Country
United States
Website
http://laweaseai.com/